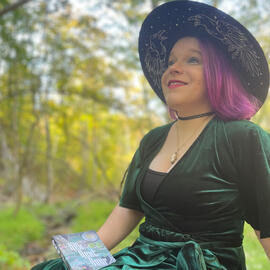 Lou Wilham
---
Indie Author, Artist, & Resident Grandma
About
Born and raised in a small town near the Chesapeake Bay, Lou Wilham grew up on a steady diet of fiction, arts and crafts, and Old Bay. After years of absorbing everything, there was to absorb of fiction, fantasy, and sci-fi she's left with a serious writing/drawing habit that just won't quit. These days, she spends much of her time writing, drawing, and chasing a very short Basset Hound named Sherlock.

When not, daydreaming up new characters to write and draw she can be found crocheting, making cute bookmarks, and binge-watching whatever happens to catch her eye.
The Prince of Starlight
An outbreak of strange curses and a kingdom in chaos…

Leaves Lunette's young, cheerful, and sometimes ridiculous Prince Cricket one choice. He must set out in search of answers to protect his people. Begrudgingly, his best friend and protector, Lady Knight Ignacia, joins him on his quest.

Along the way, they meet a dashing if not rigid young hero named Yoshi, who is bent on slaying monsters and upholding justice.

Swords, and opinions clash as Yoshi and Cricket work together to solve the mysteries that surround them. But they must set aside their differences—and budding feelings—to find the culprit before the perpetrator can launch their next attack on Lunette and plunge the kingdom into darkness.
The Girl in the Clockwork Tower
A tale of espionage, lavender hair, and pineapples.
Welcome to Daiwynn where magic is dangerous, but hope is more dangerous still.

For Persinette—a lavender-haired, 24-year-old seer dreaming of adventure and freedom—the steam-powered kingdom of Daiwynn is home. As an Enchanted asset for MOTHER, she aids in Collecting Enchanted and sending them to MOTHER's labor camps.


But when her handler, Gothel, informs Persi that she will be going out into the field for a Collection, she decides it's time to take a stand. Now she must fight her fears and find a way to hide her attempts to aid the Enchanted or risk being sent to the camps herself.


Manu Kelii, Captain of the airship The Defiant Duchess, is 26-years-old and hasn't seen enough excitement—thank you very much. His charismatic smile and flamboyant sense of style earned him a place amongst the Uprising, but his fickle and irresponsible nature has seen to it that their leader doesn't trust him.


Desperate to prove himself, Manu will stop at nothing to aid their mission to overthrow MOTHER and the queen of Daiwynn. So, when the Uprising Leader deposits a small unit of agents on his ship, and tasks him with working side by side with MOTHER asset Persinette to hinder the Collection effort, he finds himself in over his head.


The stakes are high for this unlikely duo. They have only two options; stop MOTHER or thousands more will die—including themselves.


The unique characters, witty dialogue, and fantasy-meets-steampunk world make this fresh take on the classic tale of Rapunzel a must read for fans of Marissa Meyer's Lunar Chronicles, and Gail Carriger's Parasol Protectorate series.
The Curse of The Black Cat
Alrik has two choices: Spend eternity eating mice, or learn to accept himself for who he is.
As his eighteenth birthday draws near, prince Alrik—heir to the throne of Edan—must choose a wife. But when his first kiss with a beautiful princess leaves him feeling cold, he knows that although it is his duty, he cannot love a woman. In a fit of panic, he seeks out the aid of the witch Gwydion. The witch, however, has other plans.

After hundreds of years as a cat, Alrik must learn to accept himself and who he loves or face the rest of eternity as a cat. Luckily, New York City's dumpsters are ripe for the picking. With food from around the world to choose from, he finds himself drawn to one restaurant in particular.

Crystal Tokyo—a restaurant specializing in Japanese food—is Yuuki's first big job as a chef, and he loves it. So, what happens when Yuuki decides to befriend the black cat hanging out in Crystal Tokyo's back alley?

This story is perfect for fans of Rainbow Rowell's Simon Snow Series, Ashley Poston's The Princess and the Fangirl, and A.W. Jantha's Hocus Pocus.
The Curse of Ash & Blood
To conquer or to tame—how to break a curse and handle a dragon?
To save his village from ruin, a kind young mage named Fable must face off against the dragon. When Blaze—the dragon—can't be reasoned with Fable turns to the local witch, Gwydion, for aid. But no magic can tame a dragon, and where Blaze's temper goes, tragedy follows. Blaze leaves Gwydion with only one choice, the witch curses Blaze and blesses Fable.

It's the curse—or perhaps fate—that brings them together over and over again through all of Fable's reincarnations. While Fable remembers nothing of his past lives, Blaze is forced to relive his mistakes repeatedly. Until he comes face to face with Fable Alperen, a sweet, good-hearted, veterinarian who just moved to New York.

Could this be the time Blaze finally conquers his own demons? Will Fable finally be able to tame the dragon?

No magic can tame a dragon, but perhaps a curse can help.

A story for lovers of fine fairy tales such as Rainbow Rowell's Cary On, Ashley Poston's The Princess and the Fangirl, and Casey McQuiston's Red, White & Royal Blue.
Tales of the Sea Witch
No creature under the sea is born dark; some just lose themselves.
Irsa's name was lost long ago to the obscurity of being labeled a villain. Born with enough magic to boil the ocean, all Irsa wants is a simple life with her best friend, Aislin. But when they discover their connection is more than just friendship, the pair must fight all odds to be together.

Surviving the sea isn't easy, but Irsa has never known any different. With Aislin by her side, she must face a wicked witch, defy a prince, and maybe gain all she ever wanted: a happily ever after.


Tales of a Sea Witch is an origin story full of mermaids, and undersea magic for fans of Tithe by Holly Black, and Wicked by Gregory Maguire.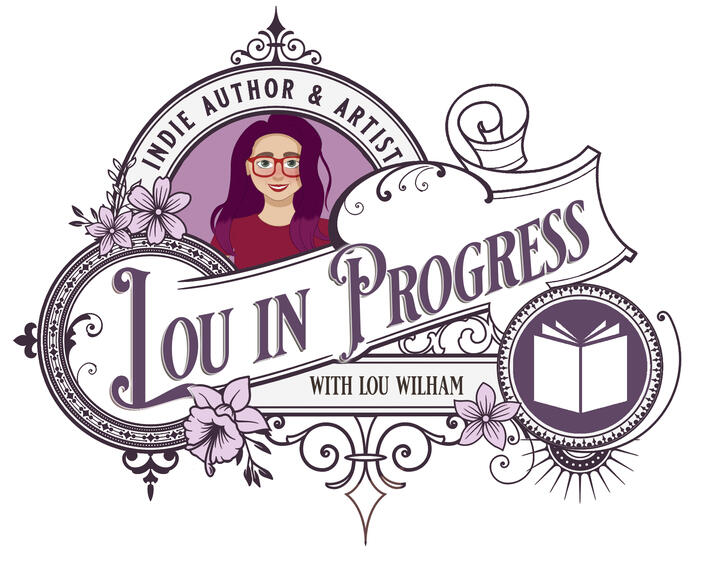 Submit your question for the next episode of Lou in progress